Earning money with holiday rentals in Mallorca – this article is about a topic that many people find contradicting the party island of Mallorca: earning money with Mallorca real estate.
The real estate market in Mallorca is often laughed at in Germany, and it is wrong. Because Mallorca is an island to fall in love with, which attracts millions of holidaymakers every year. Many of them want to spend more than just a few weeks in Mallorca. And they no longer want to sleep in the hotel, but want their own holiday apartment or holiday home . There is a large range of holiday apartments on Mallorca, and the building standards are now often just as high as in Germany. From the small city apartment to the cozy finca in the hinterland to the luxurious villa with a sea view, everything is available.
Mallorca is one of the most exciting and dynamic real estate markets in Europe. And that, of course, attracts investors who want to earn real money with Mallorca real estate: the market is over EUR 15 billion, and there are over 15,000 real estate transactions per year on the Balearic island.
In this article you will read what you need to know about making money with Mallorca real estate. Starting with holiday rentals, crowdfunding of Mallorca real estate and real estate investments as your own investor .
Holiday rentals in Mallorca are a gold mine
Vacation rental through your own property is a veritable gold mine. After all, who wants to go to a hotel? Families with children in particular love holiday homes with their own pool and parking space for the rental car.
If you now make the decision to rent out your Mallorca property, that is actually a very good idea. Unfortunately, it often fails due to bureaucracy. And the ignorance of the peculiarities here on the island.
authorities
Holiday rental is a tourist service subject to numerous regulations. There is a so-called zone map. You may only rent within the approved zones. Fortunately, the region around Cala Pi and Cala Pi itself is part of a region where you can operate holiday rentals. Another advantage for Cala Pi is that there are no classic holiday hotels there. In addition to a holiday resort , there are only holiday homes in Cala Pi. What has a positive effect on the rental prices: hotels are looking for optimal utilization of their bed capacities and use all possibilities for this: special offers, tour operators, their own campaigns. This makes it difficult for you as a provider of 6 beds to be noticed at all in a place with many hotels. You're better off in areas without hotels.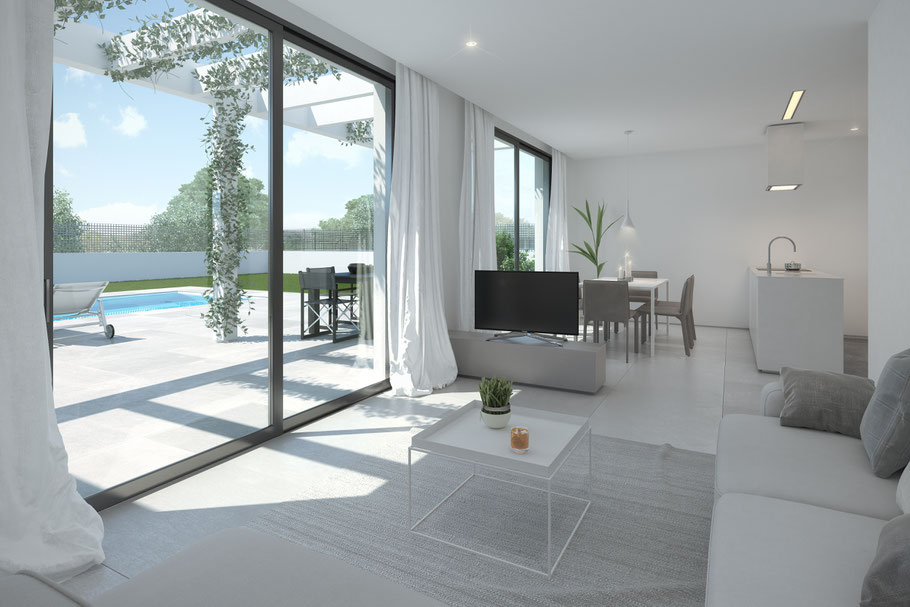 Do you own your property in a rental area? Then you should get a rental license.
IMPORTANT: Find out about the conditions you need to meet before placing an ad.
New law
The new vacation rental law has caused a lot of confusion internationally. But if you ignore the topic of renting apartments within apartment buildings, renting was actually always unproblematic. Nevertheless, ignorance does not protect against punishment! A conversation with the municipality will only take you 20 minutes and will really help you.
And I know what I'm talking about: my company Cala Pi Homes builds houses for investors in Cala Pi in the municipality of Llucmajor . Investors buy from us. Because Mallorca real estate as an investment is booming. In times of crisis like these, investors look for real estate as a safe haven.
And with a rental of the Mallorca property you can earn good money . But of course only if you have applied for the Mallorca rental license.
MALLORCA RENTAL LICENSE – WHERE AND WHAT?
As mentioned, you apply for the rental license at the municipality. Forget everything else. The community is responsible. Of course, the community is subject to island-wide regulations, but that's another topic. I recommend you: if you don't speak Spanish, go to a local Gestoría, preferably the Gestora that will also do the Spanish tax return modelo 210 for you. Take with you to the appointment: the Escritura of the purchase, official building plans of the property, stamped by the architect, the Certificado energético, the building and liability insurance, photos of the property.
MALLORCA RENTAL LICENSE – REALLY NEEDED?
Chaos was deliberately spread in the media. However, those who followed this blog could be sure that they would only ever get seriously researched information. So here are the basics on the subject:
There is still uncertainty among finca owners as to why you need a Mallorca rental license. After all, you can also rent out without a license – and it's (still) completely legal.
But even if it is legal to rent out in Mallorca without a rental license, it is still far from recommendable. And a rental license gives you the right, but not the obligation, to rent out touristically. I recommend applying for a tourist license whenever you want to advertise your holiday home on an internet portal. If you only rent among friends, having a proper license is less important. However, the following applies: at the latest when you operate the holiday rental commercially, you definitely need an official permit.
If you are an investor looking for a profitable holiday home in Mallorca, get information from Cala Pi Homes. Cala Pi Homes builds holiday homes for investors. And you can get a rental permit there according to the applicable law.
LONG TERM RENTAL
Those for whom holiday rentals are too expensive can also rent out in the normal way, as in Germany. This completely normal rental is not a "tourist service" and therefore you do not need a rental license for it. And you don't have to follow the rules that ultimately make you a hotelier. Of course, you don't have to rent out all year round. You also want to use the property yourself. But a long-term rental should be 30 days or more to set you apart from the tourist service. But there is no specific minimum period for renting according to LAU (Ley de arrendamiento urbano).
Conclusion: long-term rental is the unproblematic alternative for anyone who wants to earn money with their Mallorca property.
There is no statutory minimum rental period for long-term rental. In contrast to tourist rentals, a Spanish contract is concluded according to LAU (Ley de Arrendamiento Urbano), comparable to renting according to the German Civil Code.
tax treatment of income from holiday and long-term rentals
On the subject of tax treatment of income from holiday rentals or long-term rentals, I recommend the article on Slideshare, which we created in cooperation with a respected tax office in Germany. Tax considerations for holiday rentals in Mallorca Tax in Germany download from Christoph Albeck Mallorca Real Estate and Finance